A novelty for coffee lovers, we are of course talking about Italian espresso, the most loved in the world!
A revolutionized mocha born from technological research developed by Illy coffee and the experience of Alessi, two Italian excellences in design and coffee culture. Pulcina (littlechic in Italian) is the result of 15 years of studies with the intent to increase the functionality of the classic coffee machine and develop a shape that can enhance the properties of coffee.
Designed by the great architect Michele De Lucchi, Pulcina has a perfect shape that allows the preparation of an equally perfect coffee. It stops the coffee brewing automatically and at the right time removing the final extraction phase that generates the burnt and bitter flavor that often we taste when we take our little break.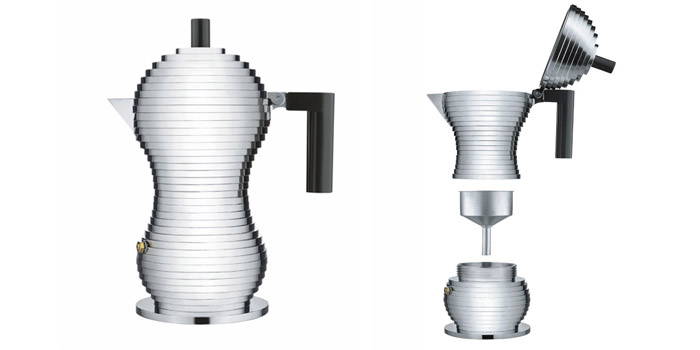 Its internal structure is characterized by a steps system, highlighted by two rounded volumes starting from a broader base narrowing towards the center.
The spout, a V-shape resembling the beak of a chick, is designed to perfectly cut the drops during the pouring. These features enhance the aroma, making it dense and round.
Made entirely in aluminum, an excellent heat conductor, Pulcina is ideal for use on a gas stove, electric or ceramic hotplates. Obviously practical and functional, it doesn't require any special precautions for maintenance. Available in two colours (red or black) and in different sizes, Pulcina is presented in an attractive package featuring pop graphics, making it perfect as a gift idea!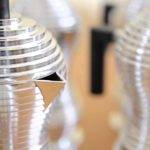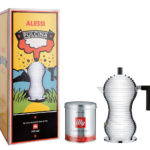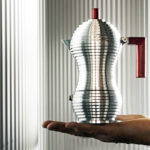 In Italy there are over 20 million families who don't want give up the traditional brewing and Pulcina is precisely designed for them, an excellent, creative, innovative and high-quality product that helps to spread the espresso preparation as a true symbol of Italian lifestyle in the world. A true proof of the ability to innovate on the part of two important industrial realities with a strong Italian identity.
Buy your Pulcina on Luxxdesign.com and discover the real taste of espresso.