With smart planning and brilliant ideas, a home workspace can emerge from a spare corner, a few inches of a wall and in any room in the house regardless of how small it may be. Whether working full time from home or taking work home whenever possible, creatively applied bespoke joinery comes in very handy and tends to give more flexibility and allows you to get a lot more comfortable. Below are creative ways to incorporate a functional and unique workspace into your home.
1. SMART STAIRCASE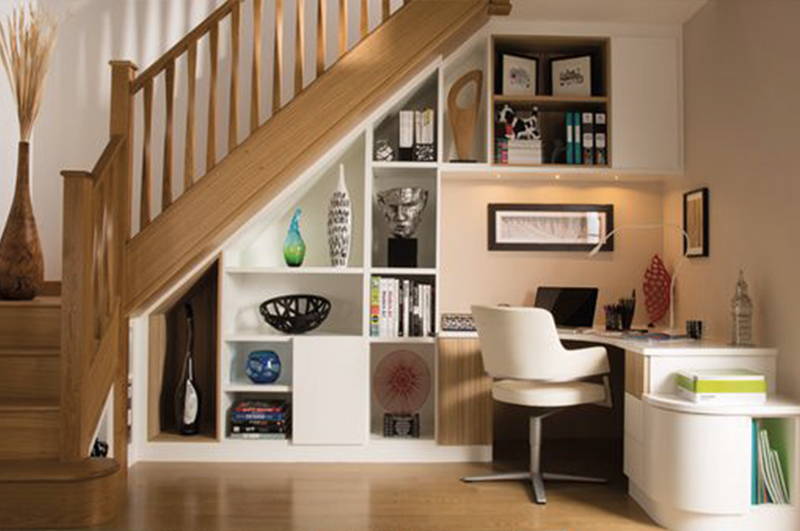 If you have been wondering what to do with the space beneath your staircase that has been left underutilized, well how about fitting in a custom built home office unit? What I love most about staircases is they are usually an interesting focal point of the room, and incorporating a well-executed workspace can act as a practical and elegant décor element. A little work surface can be accompanied by few cabinets or drawers to store your stationery and wall mounted shelves to neatly place your books and files.
2. PULLOUT WORK SURFACE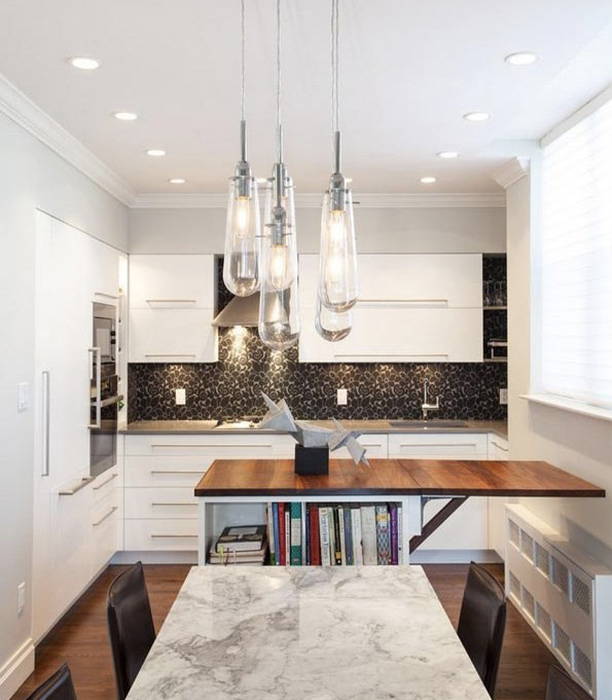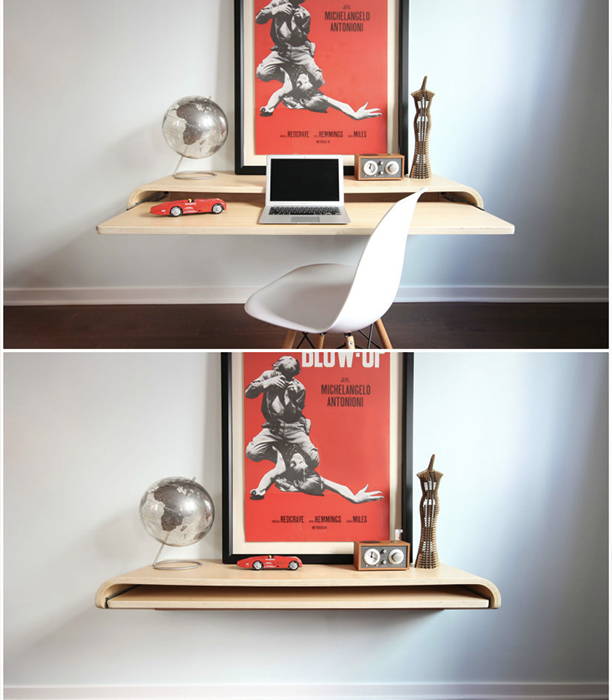 Bespoke fixtures and units may feature a pull out work surface that fits snugly taking up minimal space. For example the image on the right showcases a kitchen pullout cutting surface to add to the existing counter space. How about a little twist by using it as your workspace as well? It offers plenty of room to work on a laptop and simply slides away when not in use. It's an amazing and thoughtful way to utilize horizontal space without taking up much room and prevents it from becoming a cluttered, permanent feature.
3. WORK WITH A VIEW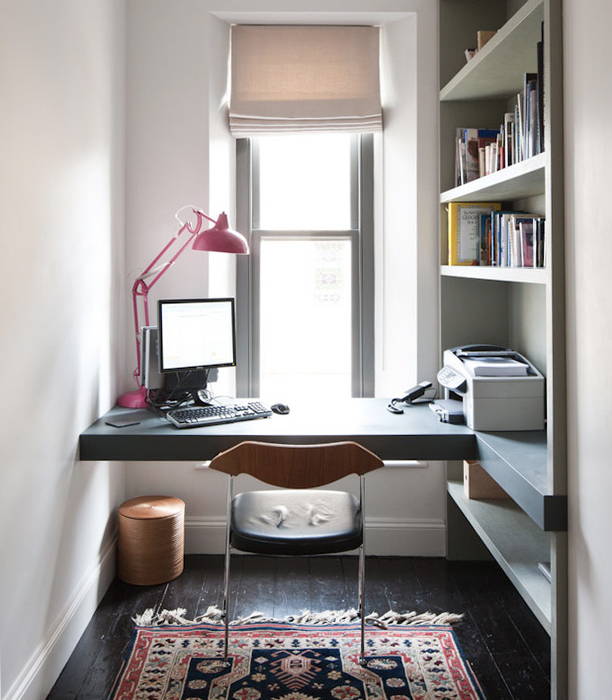 The pinnacle of working from home is simply deciding on how to organize your workspace to what best suits you and this has been linked with improved productivity. What better way than to decide on a workspace with a view while making use of the often neglected window area?
Natural light is key and will help with your sight while illuminating the use of an additional table lamp, which means less clutter. A trend in bedroom interior design is creating a space to sleep, work and relax; a work surface area is tucked in-between built-in cabinets and drawers for extra storage.
Alternatively, you can install a built-in desk and shelves under a large window and use it as your work area in the kitchen. With the kitchen being the heart of the home, it's a brilliant place to have a custom built workspace where its convenient to watch over the kids getting on with their homework while you prepare dinner too.
4. COZY CORNER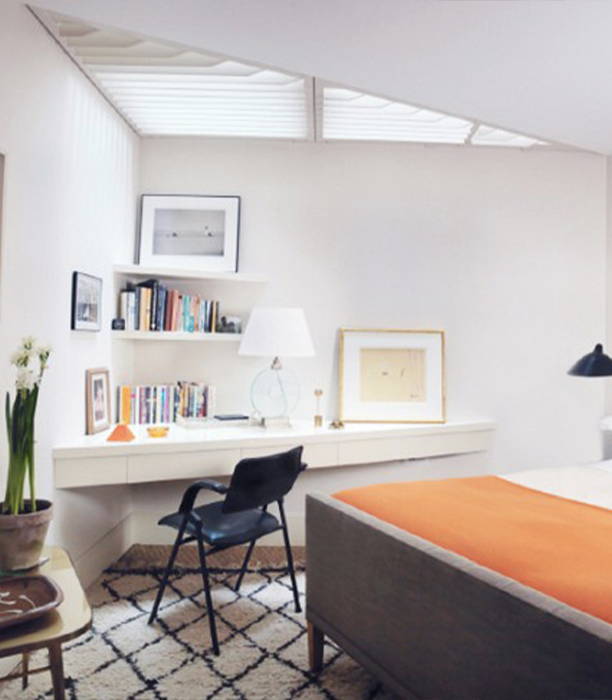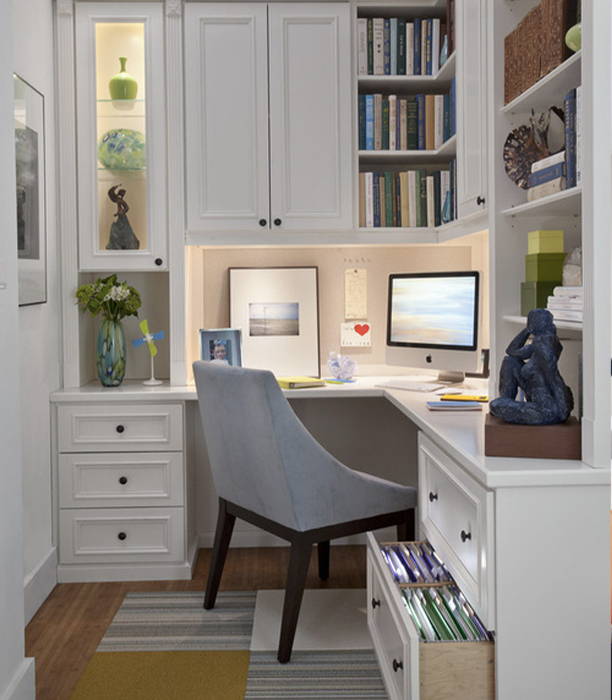 he above images prove that you don't easily give up on limited living space without trying your hand at designing something inspirational. Consider what opportunities lay in your awkward corners, as they are versatile spots that often aren't fully exploited. It can be an ideal place for you to organize a small bespoke desk with drawers or maybe even some wall shelves or a bookcase. With corners it's wise to think vertical to avoid using as much floor footage as possible. The above images show a functional but chic way to personalize your interior by incorporating a workspace into a tiny corner that would otherwise go unused or ignored.
5. CLEVER CLOSET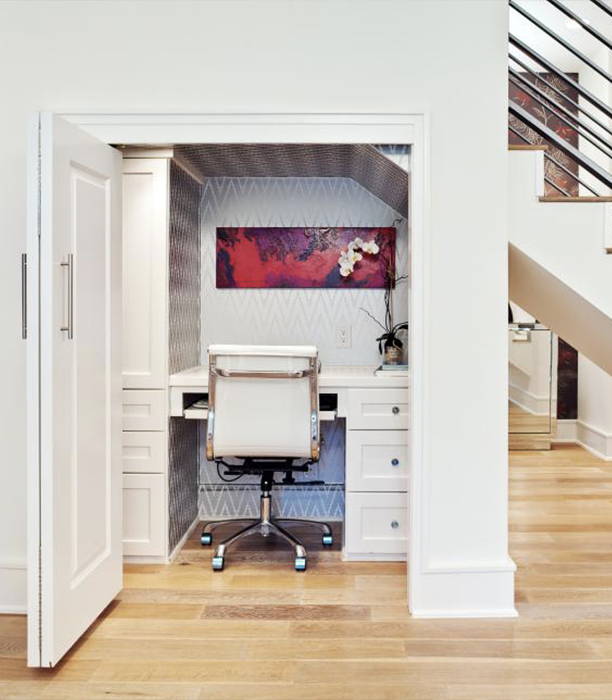 Often living in a small space results in constant organizing, making your life functional and making the most of every inch of space available to you. An unused closet can be transformed into an attractive home office with the help of sleek and resourceful bespoke cabinets for storage and work surface, as well as additional shelves.
Chic wallpaper creates a feeling of a separate room while adding character and a modern look to the space. The best thing about transforming a closet into an office is that it looks spacious when the doors are open and when you don't feel like thinking about work, you can simply conceal it with a set of sliding or folding doors and forget that such a space exists. Perfect for switching off!
Alternatively, if you don't have a free existing closet that will work, a kitchen pantry or a nook beneath the stairs is a great option. Consider adding a screen or room divider to create a separate office area within a large room for more privacy in a way that looks good and is relatively functional. However, a closet can be multifunctional and accommodate both your clothing and work surface. The picture on the right is an example of a kid's closet used for both hanging clothes and doing homework. Brilliant design that allows one to keep up with every day needs, using minimal space with maximum efficiency.
---
Stewart Naish is Project Director at TC&D Construction. As a highly experienced and skilled property refurbishment professional, he shares his wealth of knowledge and insights into the world of interior design and fit out for both residential and commercial property renovations on his Twitter page. An avid fan of Arsenal FC and all things creative, he is happy to offer advice and feedback to anyone looking to share his passion for interior design and architectural beautification.