Anna Castelli Ferrieri was an important Italian architect and industrial designer, born on 6 August 1920 in Milan. Her father Enzo, an intellectual and founder of Convegno magazine, was often in the company of famous writers and other intellectuals such as Eugenio Montale and Luigi Pirandello, providing a highly stimulating environment to grow up in. At 18, Castelli Ferrieri enrolled at the prestigious Milan Polytechnic and while there she collaborated with Franco Albini, one of the most famous Italian Rationalist architects whose theory was based on reduction, function, and rigorous beauty. She earned her Architecture degree in 1943, one of the first women in Italy to do so. The same year, following the Nazi occupation, together with her husband Giulio Castelli, she was forced to leave Milan. This gave her the chance of dedicating herself to the role of full-time mother, leaving her career in architecture on hold, at least temporarily.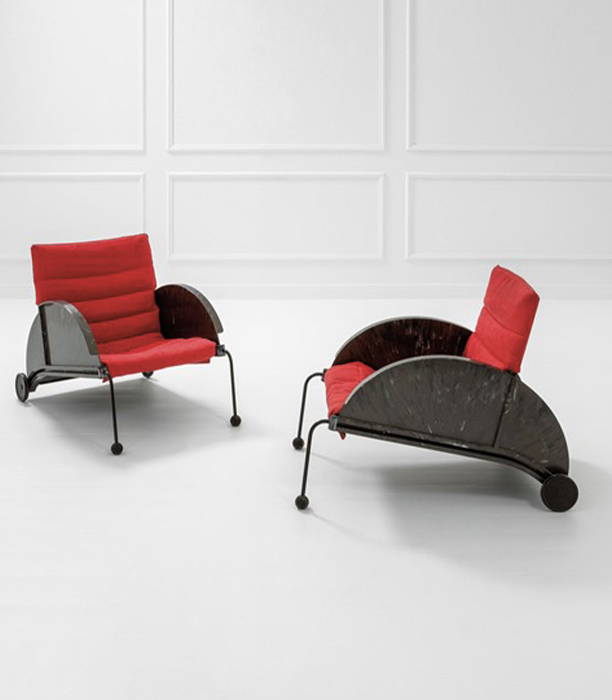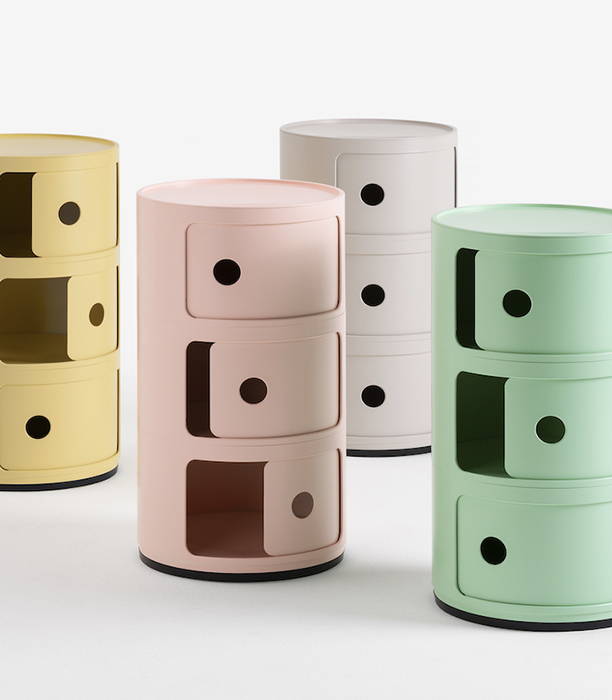 Anna Castelli Ferrieri working in her Milan studio, 1974. Photo by Valerio Castelli. Courtesy of Kartell
Once back in Milan in 1946 Castelli Ferrieri opened her architectural studio and started collaborating with the magazine Architectural Design and the Triennale di Milano. In 1947 she won the Diploma D'Onore and Medaglia D'Oro at the Triennale di Milano for her designs of children beds and armachairs, her first projects.
From 1952 Anna Castelli Ferrieri was a member of the Istituto Nazionale di Urbanistica(National Institute of City Planning). As an architect, she collaborated with fellow architect Ignazio Gardella on several urban planning projects in Milan, Turin, Genova and Venice. She also designed the headquarters of Alfa Romeo and Kartell, both on the outskirts of Milan. In 1956 she was a co-founder of Associazione per il Disegno Industriale (ADI -- Italian Industrial Design Association) and from 1966 she became a design consultant for Kartell, the iconic Italian company specializing in top-quality designer plastic objects founded by her husband Giulio Castelli in 1949.
It was for Kartell that Castelli Ferrieri produced some of her most iconic works: the 4870 chair, winner of the the prestigious Compasso D'Oro Award in 1987, the 4822/44 stool in 1979, the first poduct made in a metal alloy with polyurethane, allowing for longr legs, and what is probably her most recognized design, the 4970/84 stackable containers, first designed in 1967 and till today one of the symbols of Kartell. However, Kartell was not the only brand Castelli Ferrieri designed for -- in 1994 she won a second Compasso D'Oro for the Hannah cutlery range designed for Sambonet.
Anna Castelli Ferrieri was a visionary who throughout her career aimed at creating objects that would make design accessible to everyone, making it an everyday affair. She died in 2006, the same year as her husband, a visionary couple that shaped the landscape of modern industrial design in Italy and beyond.
"It is not true that what is useful is beautiful. It is what is beautiful that is useful. Beauty can improve people's way of life and thinking." - Anna Castelli Ferrieri